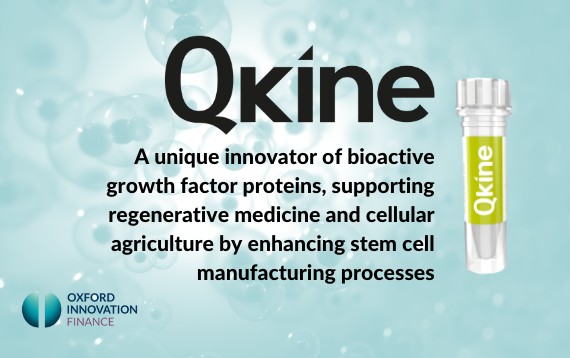 Oxford Innovation EIS Growth Fund and OION Angels invest 14% of Qkine's latest £4.3 million fund raise which was co-led by Parkwalk Advisors Ltd and Downing Ventures.
The oversubscribed funding raise will enable Qkine to substantially scale-up manufacturing, R&D and commercial functions of its innovative animal-free and highly bioactive proteins and growth factors for life science applications.
Qkine is a specialist developer and manufacturer of bioactive proteins for stem cell, regenerative medicine and cellular agriculture applications. It manufactures and conducts R&D on growth factors that are essential in stem cell and organoid culture and have regenerative medicine applications. Spun-out from Cambridge University, Qkine combine proprietary production processes with protein engineering technology.
Dr Catherine Elton, CEO and Founder of Qkine said: "We are at an exciting stage of development, with new funds facilitating our next phase of rapid growth as we continue our mission of providing more reliable tools for research and bio-manufacturing. Our platform provides an improved process for complex protein manufacture at exceptionally high purity and unique engineered products that address specific challenges for stem cell biology. Growth factors are essential reagents for all stem cell manufacturing, and therefore critical for the delivery of cell therapies and cultivated meats."
Richard Cooper, Managing Director at Oxford Innovation Finance, commented: "Oxford Innovation Finance is always looking to support early-stage companies developing bold ideas to solve the challenges of future generations. Qkine is a unique innovator of bioactive growth factor proteins which support essential industries such as regenerative medicine and cellular agriculture, enhancing their stem cell manufacturing processes. Its products enable the development of new stem cell therapies, drug discovery and precision medicine for a diverse range of global therapeutic areas including liver disease and diabetes."
Published: January 2023.