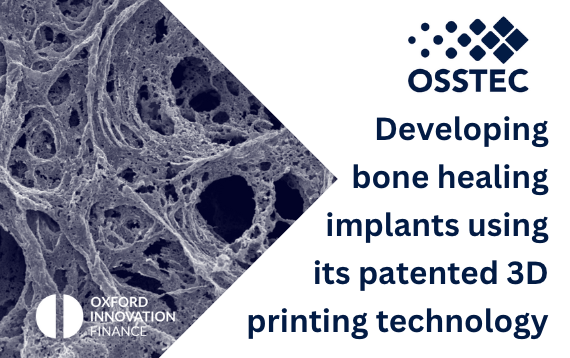 Oxford Innovation EIS Growth Fund alongside OION angel investors, have invested in the £1.2 million oversubscribed funding round for OSSTEC, the orthopaedics company developing bone healing implants.
Its patented platform technology, proven over 8 years of research and development at Imperial College London, reduces implant loosening and bone loss post-surgery. OSSTEC's world leading team combining engineers and surgeons, has developed the first fully porous implants to stimulate long-term bone growth.
These new funds will enable OSSTEC to advance regulatory development of its implants and instruments, accelerating the biomimetic implant to its first clinical procedures. With continued development of its 3D printing technology and team of experts, OSSTEC will facilitate its mission to evolve from lab to operating room.
Dr Max Munford, co-founder and Chief Executive of OSSTEC said: "1.3 million knee patients are treated every year globally, but surgeons increasingly want to treat younger patients to reduce the risk of more severe damage later in life. The increased chance of implants loosening over their lifetime often prevents surgeons from undertaking these procedures on younger patients. OSSTEC's additive manufacturing 3D printing technology is proven to improve bone formation and fixation offering an innovative solution to solid metal implants that lasts longer and performs better."
Richard Cooper, Managing Director at Oxford Innovation Finance, commented: "OSSTEC's fully porous implants create a better bond between the bone and implant, transforming the recovery and rehabilitation of patients by keeping them healthy and active for longer. It is the only company utilising the possibilities of 3D printing to develop this type of implant for a market that has previously lacked innovation. Oxford Innovation Finance is focused on supporting the best technology businesses being founded in the UK, helping them to develop bold ideas to solve the challenges for future generations."
Published: April 2023.