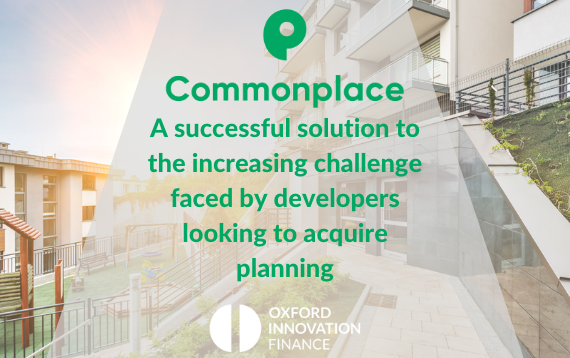 Oxford Innovation EIS Growth Fund 2 makes its ninth investment in Commonplace, the award-winning proptech business connecting people with the places they live, work and play to facilitate planning success and accelerate positive change.
Commonplace raised £2.1 million in seed investment to accelerate its expansion and inspire thriving places. Its SaaS proptech platform provides easy access to the important voices, views and visions of our communities through data, collaboration and relationship building. By empowering positive participation amongst communities, Commonplace is helping developers to reduce the risks, uncertainty and costs incurred acquiring planning.
Commonplace's innovative technology is already being used by the cities of London, Leeds and Liverpool, and developers Lendlease, Landsec and Barratt Homes to understand and respond to the needs of the community and help build better places, by. With access to deep insights from the most diverse range of voices, developers can tap into the priorities and opinions of people in the community and collect detailed feedback on designs and proposals.
The investment round was led by Beringea VCT and included Ascension Conduit, Concrete Ventures, Foundation Ventures, Grosvenor Ventures and Oxford Innovation Finance.
Mike Saunders, CEO & Co-founder of Commonplace, said: "We are excited to welcome onboard some of the industry's leading investors as part of this fundraise and to have them support us on our mission to expand our market reach and help build better places. Commonplace is not only helping developers in gathering real-time feedback and public opinion, but also to reach those communities who wouldn't normally interact with application proposals. Boosting participation in community projects will empower positive engagement and help to build better cities and communities."
Richard Cooper, Managing Director at Oxford Innovation Finance, commented: "Commonplace has built a successful solution to the increasing challenge faced by developers looking to acquire planning. Their limited access to communities and its opinions can present huge risks and expense to developers, councils, governments and corporates seeking to create positive change in our cities. Commonplace has a huge market opportunity and potential for growth, and we're pleased to support them on this journey."
Published: June 2023.