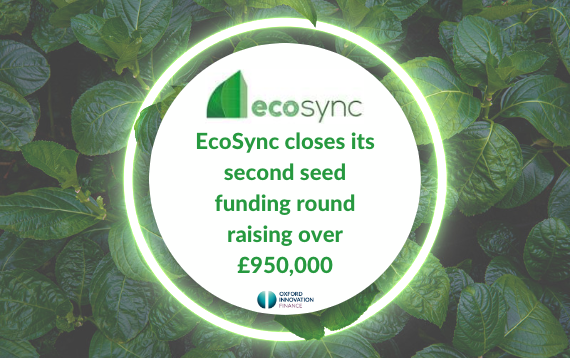 Oxford Innovation EIS Growth Fund co-invest with OION Angels in EcoSync's second seed funding round of over £950,000, continuing its support from the first funding round in 2021.
Closing its funding round early after reaching 240% of its target investment, EcoSync will use the new funds to focus on executing its sales and marketing strategy and develop its technology. The cleantech start-up from Oxford, deploys its cloud-based energy management technology into commercial buildings to reduce their heating bills and carbon footprint by up to 50%.
Results from the second iteration of EcoSync's AI-powered platform which has been implemented in all locations, is receiving positive feedback, with energy savings of up to 57%. Having made significant progress installing devices within higher education buildings, EcoSync is now building traction within the leisure, education and public sectors.
Nick Pledge, CEO at EcoSync said: "This new funding allows EcoSync to make significant progress towards the next milestones in its development strategy, giving us the opportunity to expand into other sectors and accelerate growth. Without the support of our new, and existing, investors we would not have been able to make such compelling advancements and take our solution to market, where it can have a real impact in driving a transition towards net zero carbon."
Richard Cooper, Managing Director at Oxford Innovation Finance, commented: "We first met EcoSync in 2021 and was very impressed with its innovative technology, seeing huge growth potential. Following our investment to the first funding round, from the Oxford Innovation EIS Growth Fund and OION Angel Network, we have continued to follow EcoSync's progress and significant developments, maintaining our confidence in the market opportunity for its technology due to the large number of older buildings in the UK with wet radiators. We therefore increased our investment in the latest funding round, supporting EcoSync in accelerating its growth over the next 3 to 5 years, with the potential for its technology to be implemented in several different sectors across the globe."
Published: November 2022.