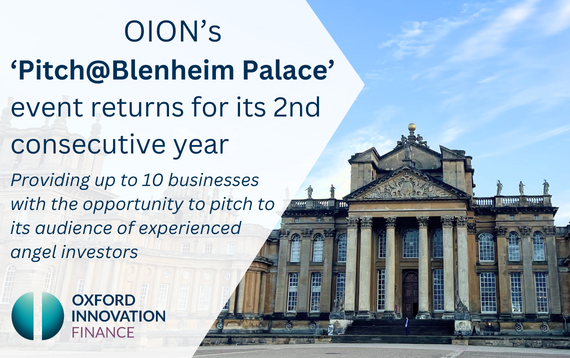 OION, Oxford Innovation Finance's angel investment network, returns to Blenheim Palace for its next in-person 'Pitch@Blenheim Palace' Showcase event on 6th September 2023, providing up to ten businesses with the opportunity to pitch to its audience of experienced angel investors.
Oxford Innovation Finance gives those high-quality businesses of the future access to value that goes deeper than just capital, supporting the future prosperity of the UK and its economy.
The 'Pitch@Blenheim Palace' Showcase event provides up to ten carefully selected early-stage businesses with the chance to present their innovative ideas, solutions and current investment opportunity to its audience of angel investors as part of a quick-fire pitching round. This is followed by an extensive networking session, giving businesses and investors the opportunity to connect.
Oxford Innovation Finance uncovers the next generation of science and technology businesses, offering its diverse investor community access to the best opportunities whilst providing all important access to finance and support for innovative early-stage businesses developing solutions to the challenges of our future. OION's Showcase events have a strong track record of securing investment for presenting businesses from its members, making them a pivotal platform for those Founders of next generation UK businesses seeking both finance and experienced support.
Richard Cooper, Managing Director at Oxford Innovation Finance, commented: "We are excited to return to Blenheim Palace for a second consecutive year and bring our established network of experienced angel investors together, in-person, to meet our latest selection of high-quality businesses with attractive investment propositions. Pitch@Blenheim Palace provides a valuable opportunity to talk directly with Founders as well as other angel investors, bringing another dimension to the OION Showcase. We hope to continue the huge success of last year's event in reconnecting our angel network and providing a valuable platform for the next generation of science and technology businesses. OION prioritises the needs of investors and businesses alike, partnering like-minded people."
If you're a company seeking investment and interested in pitching at the next OION Showcase event, register here.
If you're an investor interested in accessing the innovation ecosystem of Oxford Innovation Finance through its angel network, register here.
Published: August 2023.