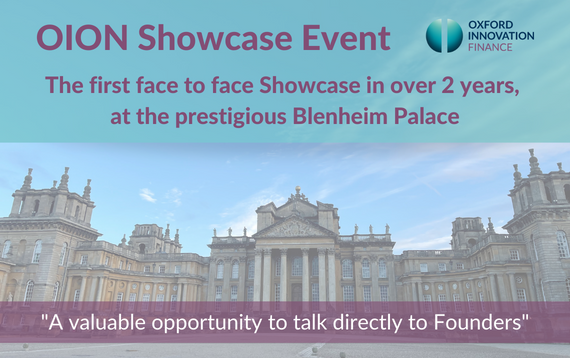 OION angels, part of the Oxford Innovation Finance ecosystem, held its first face to face Showcase since the pandemic at Blenheim Palace last month, providing nine businesses of the future all important access to finance and support.
An increasing number of start-up's are being founded, with more than 770,000 new businesses launched in 2020 alone, leading to a very crowded market of novel ideas. Oxford Innovation Finance uncovers the next generation of science and technology businesses, giving its diverse investor community access to the best opportunities. Since March 2020, OION has run all its Showcase events online to ensure the safety of its attendees whilst continuing to support innovative early-stage businesses.
OION's Showcase event at Blenheim Palace presented nine early-stage businesses with bold ideas, to an in-person audience of angel investors. A quick-fire pitching round gave investors an insight to what was on offer and an introduction to the Founders of these innovative ideas and solutions. This was followed by an extensive networking session, giving businesses and investors the opportunity to connect.
An attending OION Angel Investor said: "Having become an active OION Angel Investor at the start of the Covid pandemic, Blenheim Palace was my first in-person Showcase event. While it took a little extra effort to travel, versus an online showcase, it was a valuable opportunity to talk directly to Founders, other angels, and the OION team. I will certainly be attending more in-person Showcase events going forward, as it brings another dimension to the investment opportunities."
OION's Showcase events have a strong track record of securing investment for presenting businesses from its members, making them a pivotal platform for those Founders of next generation UK businesses seeking both finance and experienced support.
Jens Tholstrup, Executive Chairman at Oxford Innovation Finance comments: "This event was our first in-person Showcase in over two years and it was hugely successful in reconnecting our established angel network, and providing a valuable stage for start-up science and technology businesses. It is important for the UK to support the businesses of tomorrow that are crucial to the future prosperity of our country and its economy. OION is focused on building an active angel investment network that prioritises the needs of investors and businesses alike, partnering like-minded people."
The nine businesses that presented at the September OION Showcase event were:
If you are an early-stage business and would like to be considered to pitch at an OION Showcase event, register here.
ENDS
Published: October 2022.