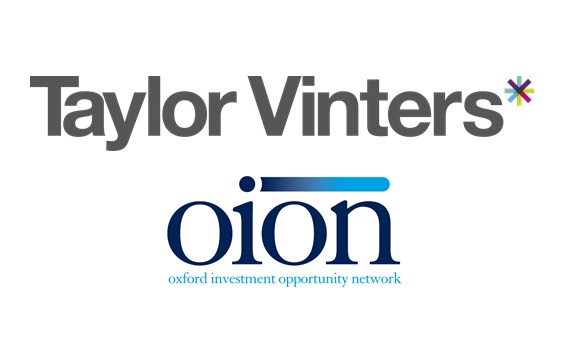 International legal business Taylor Vinters shows continued support for the innovation ecosystem in new partnership with Oxford Investment Opportunity Network (OION).
OION is an extensive business angel network which facilitates and stimulates the growth of tech companies by bringing them together with valuable investors. As well as financing opportunities, OION also offers advice and networking events for ambitious companies looking to move forward in their journey, and are part of Oxford Innovation and SQW Group.
Vibrant angel networks are an important part of every successful innovation ecosystem, enabling vital funding to reach the ground breaking start-ups and scale-ups which are looking to grow.
Nicola McConville, Partner at Taylor Vinters, said:
"Taylor Vinters and OION share the same ambitions – to support the innovation ecosystem by working with innovators and entrepreneurs throughout their lifecycle – so this collaboration makes perfect sense. Earlier this year, OION merged with the Oxford Angel Network, managed by Oxford University Innovation, the University's innovation arm. This created one unified angel network, which has strengthened their offering even further, bolstering their ability to help companies flourish, not just in the Oxford Cluster, but across the UK and beyond. We can't wait to support them in this new chapter as they continue to help empower and guide innovators to build on their successes and take their businesses to the next level. In the era of Covid-19, this is now more important than ever before."
As part of the new partnership, Taylor Vinters will be supporting both the physical and online investment showcases which OION runs throughout the year.
Jens Tholstrup, Executive Chairman at Oxford Investment Opportunity Network commented:
"We are delighted that Taylor Vinters have agreed to sponsor OION. Taylor Vinters' focus on the early stage business ecosystem for innovative and ambitious companies matches OION's mission. We look forward to working with Taylor Vinters and our other sponsors in supporting the continued development of that ecosystem, particularly at this challenging time."
Published: May 2020.