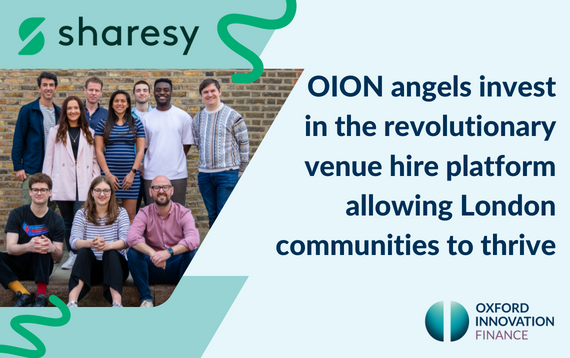 OION angels invest over £200k in a revolutionary venue hire platform for community spaces
OION angels, part of the Oxford Innovation Finance ecosystem, invest 16% of the £1.2 million funding round in Sharesy, the market leading venue hire platform for community spaces in London.
Empowering the UK's 73,000 schools, places of worship and community centres to hire out their spaces to a growing audience of local bookers, Sharesy generates new revenue streams to underfunded venues.
Felix Atkin, Founder and CEO at Sharesy said: "I founded Sharesy in 2020 with a vision to support those undervalued local spaces and create new revenue streams whilst also allowing their communities to thrive. Following a period of isolation during the global pandemic, there is growing demand for local spaces, as people look to put their money back into their local communities. Sharesy provides a simple and innovative solution by listing and hiring out those overlooked spaces, helping to make under-utilised spaces vibrant centres of community and connection."
Richard Cooper, Managing Director at Oxford Innovation Finance comments: "Sharesy is a market leading business with a social conscience, delivering a simple and efficient platform that connects underfunded local spaces with venue bookers. Its digital solution provides a smart, intuitive, and secure platform for those with the space to share, find those people to fill it. The OION angel network provides the next generation of early-stage businesses with access to capital and experience that can help them to reach their next stage of development and beyond."
Published: October 2022.