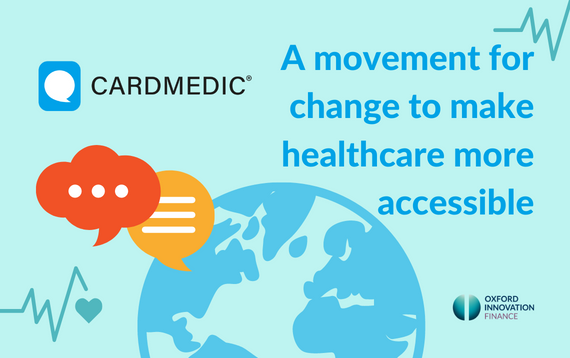 OION angels, part of the Oxford Innovation Finance ecosystem, invest in the latest funding round to CardMedic, a unique communication app designed to reduce health inequalities secondary to communication barriers in healthcare.
CardMedic improves communication between healthcare staff and patients across any barrier, including foreign language, deafness, blindness, cognitive problems, learning disabilities, or literacy issues. Fulfilling a huge unmet need that impacts nearly 50% of populations, CardMedic provides a cost-effective solution to bridge gaps in healthcare service provision.
Tim Grimaldi Co-Founder & Managing Director at CardMedic said: "The global pandemic highlighted many of the previously overlooked issues in our healthcare systems but at a time when communication was more important than ever, I was struck by the inefficiencies in interactions with patients and healthcare professionals. The daily struggles and health inequalities faced by patients with communication challenges needs to improve and that's what we are looking to achieve at CardMedic."
Richard Cooper, Managing Director at Oxford Innovation Finance comments: "The ethos at CardMedic of improving patient safety, experience and quality of care, and reducing health inequalities is of huge importance right now, especially as we face the stark realities and ineffectiveness of our healthcare systems following the pandemic. Its experienced team has developed an innovative solution that promises to overcome the key barriers in healthcare communications, ensuring every patient is heard."
Published: November 2022.