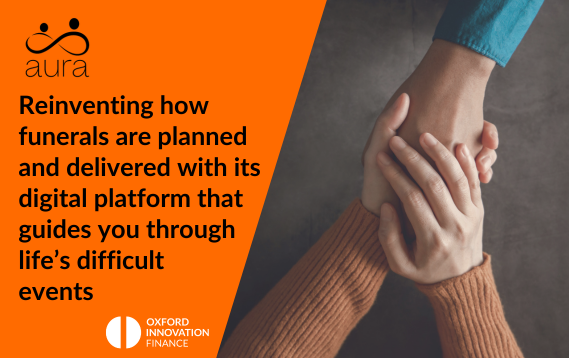 Oxford Innovation Finance's Angel Network (OION) invested in the latest funding round for Aura, the digital funeral planning and delivery tool tackling the fear, uncertainty and complexity surrounding death.
Aura is reinventing how funerals are planned and delivered with simple, direct cremations which can be served anywhere in the UK, using its digital planning tools. Aura has already helped over 100,000 people tackle their anxiety and plan ahead for death with its direct cremation funeral plans. It's digital platform guides people through life's difficult events, connecting them with the knowledge, tools and support to approach death properly and live a fuller life.
Raising £560,000 in its latest seed investment round, Aura is focused on creating a world where it's normal to approach the topic of death openly, empowering people to prepare for the future and live for the now. This latest investment will support platform enhancements and an app launch, as well as helping to expand the team to increase commercial activity and marketing efforts.
Ben May, Co-Founder and COO at Aura, said: "Aura has a mission to encourage the conversation about death within families instead of shying away from it. Built on the personal experiences of our Founder and Chairman Paul Jameson, Aura exists to ensure everyone can make a plan to look after their families when they are gone whilst embracing every bit of life while they are here. Our platform creates a society where planning for death is embraced and supported with the power of connection and compassion, redefining funeral planning and delivery. This investment will enable us to develop our solution to end-of-life planning and support that's really changing lives."  
Richard Cooper, Managing Director at Oxford Innovation Finance, commented: "Aura is disrupting the funeral market with its digital planning and legacy tools that let you decide what happens at the end of your life and share it with the people closest to you. Through its large network of crematoria and UK logistics provider, it has reinvented how funerals are planned and delivered to help celebrate what's most important in life. As one of only a handful of national regulated providers to sell direct cremation funeral plans, Aura has a huge opportunity within a market that has grown 600% since the Covid pandemic and is expected to surpass £1 billion by 2030."
Published: October 2023.