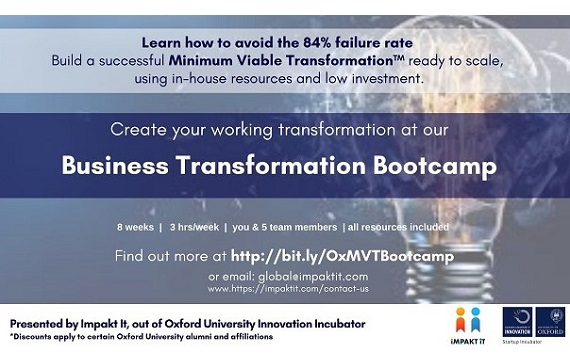 Impakt It (inventors of the MVT™ (Minimum Viable Transformation)) out of Oxford University Innovation, is excited to present the opportunity to participate in their exclusive Business Transformation Bootcamp, designed to remove the 84% failure rate of business transformation and the unnecessary high upfront investment. There are various Bootcamps (e.g. Digital and Operating Model Transformation, ESG, Workspace post Covid etc.) including the exclusive Funding and Investment-Ready Transformation Bootcamp, that focuses on getting the organisation operationally ready to pitch for their next funding round.
Impakt It is software-based organisation solving the 84% failure rate of business transformations, sitting at the centre of change management, project management and innovation execution. The Bootcamps are run by a cutting-edge team, and in 6-8 weeks (for 3.5 hours a week) takes the organisation from vision through to an operational MVT™ ready to scale. Unlike the traditional (84% failure rate) approach which requires high upfront investment, lengthy detailed static plans that don't hold up in reality, and workplace disruption with extensive external assistance, this creates a minimum viable transformation and requires low upfront investment. It uses the in-house resources and ensures the transformation works and delivers the required benefits and ROI so that it can be rapidly scaled. It simultaneously upskills and engages the workforce so that the transformed way becomes business as usual.
*Please note there is discounted pricing for organisations that are engaged through Oxford University Alumni or out of other Oxford University Affiliations.
More information on dates and the various different Business Transformation Bootcamps can be requested HERE.
Published: April 2021.