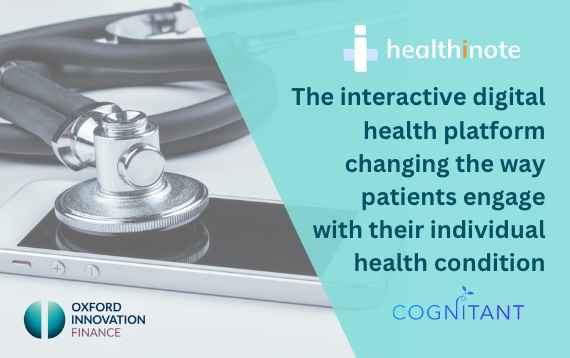 Following its initial investment in 2021, Oxford Innovation EIS Growth Fund alongside OION angel investors, has made a follow-on investment in the latest funding round for Cognitant Group, the fast-growing digital health information platform.
Established in 2018, Cognitant Group has developed Healthinote - a smartphone-based platform that provides both personalised health information and digital services to the public, delivering a highly effective route to patient engagement. The interactive platform for patients and industry professionals, allows patients to learn about their specific condition whilst also assisting clinicians in making successful treatment decisions. This innovative way to engage patients supports them in accepting, treating and adapting to their individual condition.
Patient engagement is critical across the pharmaceutical industry and currently requires a significant cost for very limited return. Misinformation and poor access to reliable health information leads to avoidable harm and increased costs. Cognitant Group's innovative, scalable and cost-effective solution overcomes this huge industry challenge.
Dr Tim Ringrose, CEO of Cognitant said: "We are focused on making it easier for patients to understand their symptoms and management of their individual condition. This not only has a positive impact on their overall health, but it also allows them to successfully make decisions about their individual treatment plans in collaboration with their clinicians. Our partnerships with global pharmaceutical companies, the NHS and other healthcare providers, is making real and valuable changes to the way patients engage with and manage their health."
Richard Cooper, Managing Director at Oxford Innovation Finance, commented: "Cognitant is transforming health information both in the UK and globally. Its production and distribution of immersive and interactive digital health information and services can have a positive impact on patient behaviour and treatment outcomes. Following our investment in the first funding round back in 2021, we have seen the company exceed their first-year growth expectations with several influential partnerships. Oxford Innovation Finance provides support to early-stage companies throughout their growth journey. As part of Cognitant's latest funding round we have increased our investment to further develop its information platform and support new international clients."
Published: March 2023.