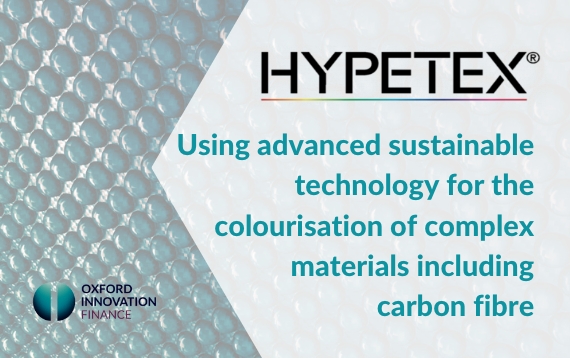 Oxford Innovation EIS Growth Fund 2 invests in the innovative coloured advance materials company Hypetex, as part of its latest £1.25 million seed fundraise, led by 24Haymarket.
The world's first manufacturer of coloured carbon fibre, Hypetex removes the need for painting with its sustainable colourisation of advanced materials, potentially improving their performance properties. It's water-based resin system and low-energy curing process removes the need for additional paint, improving production efficiencies and the ecological footprint of manufactured goods whilst also reducing the cost and weight of its end products.
With ambitious growth targets and plans to scale-up the business footprint, this latest investment will enable Hypetex to bring online larger programs with prestigious brands in various industries, demonstrating the benefits of its technology, whilst also  helping to expand its product range to sustainable natural fibre products.
Marc Cohen, CEO of Hypetex said: "Our continued research and innovative work has resulted in a coloured carbon fibre composite that is light and strong, without compromise, pushing the boundaries of design and technology.  We  offer alternatives to the current status quo and are focused on expanding the use of carbon fibre composites, reducing the need for painting whilst making it appealing for use across a wider range of global industries."
Richard Cooper, Managing Director at Oxford Innovation Finance, commented: "After several years of research and development Hypetex is addressing the need for paint as a finish to composite products. Reducing the demand for harmful paints and finishing products could significantly reduce carbon emissions and energy requirements needed for paint application. At Oxford Innovation Finance we are focused on identifying these next generation science and technology companies and supporting them on their growth journey with our skills, knowledge and all-important finance."
Published: February 2023.