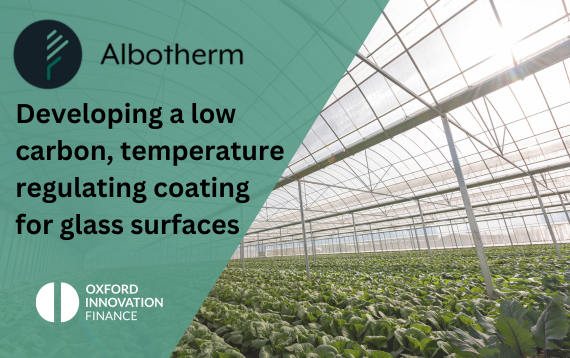 Oxford Innovation Finance's Angel Network (OION) invested in the latest funding round for Albotherm, the climate tech company developing a temperature regulating coating for glass surfaces.
Using polymer chemistry that can switch between opaque and transparent, Albotherm has developed a low carbon cooling coating for glass surfaces. The reversible coating provides shade in high temperatures and allows sunlight through in lower temperatures. Its innovative technology has a significant impact as a net zero approach to temperature regulation, with the potential to replace energy intensive cooling systems.
Raising £1.6 million in its latest seed investment round, Albotherm is poised to disrupt the greenhouse and built environment industries with its cleantech solution to low carbon cooling technologies. The investment will enable further development of its smart coating technology within the target sectors, commercial building and greenhouse.
Molly Allington, CEO of Albotherm Ltd, said: "As global temperatures rise and many parts of the world have recorded their hottest summers yet in 2023, there is an increasing need to find net zero cooling solutions to regulate temperatures in indoor environments. Our proprietary smart coating technology can make a significant impact as a sustainable, low carbon solution for temperature regulation. This latest investment will help us to propel our technology development, scale up manufacturing capabilities and complete commercial pilots that will allow us to bring our first products to market within the next two years."
Richard Cooper, Managing Director at Oxford Innovation Finance, commented: "Albotherm's advanced climate technology and temperature-responsive material is set to revolutionise the cooling industry by providing an innovative solution to low carbon temperature regulation, reducing the need for active cooling systems like air conditioning. Its technology has a broad application potential across multiple sectors where energy efficient cooling solutions are in high demand. The need for sustainable solutions to the increasing global warming challenges is a critical element in the drive to tackle climate change."
Published: August 2023.