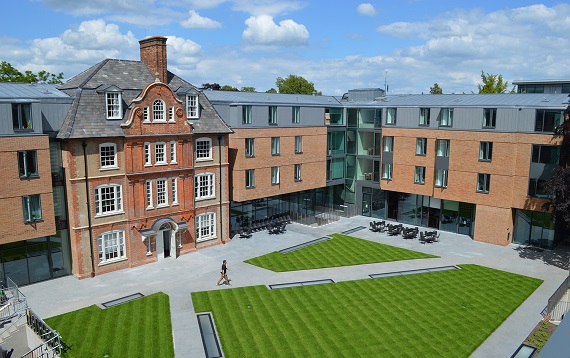 Our October Showcase took place last week with eleven companies presenting for investment at the recently completed H B Allen Centre, Oxford. The H B Allen Centre is Keble College's new graduate centre, opened earlier this month by the Duke of Cambridge. Along with a café, lecture theatre, gym and postgraduate accommodation, the Centre is also home to Oxford Sciences Innovation (OSI), and the Oxford Robotics Institute (ORI).
The evening commenced with Roger Boden, Keble College Bursar, providing a brief overview of the new Centre and the plans to create an intellectually and socially enriching experience for all in an environment designed to foster research collaboration.
Eleven companies then pitched for five minutes each with the investment opportunities coming from a wide range of sectors from Life Science to Consumer. Further details can be found on the OION Ltd investment opportunities page. Networking over wine and canapés followed allowing investors to find out more from the companies.
Our thanks to Keble College for allowing us to be one of the first users of this unique space and also to our network sponsors; Laytons, PwC, Nunn Hayward, Moorcrofts, Richardsons & The Oxford Trust for their continued support.
The next OION Ltd Showcase will be held at the Reading Offices of PwC on Thursday 5th December 2019. If you're an investor interested in attending please contact us here. If you're a company interested in pitching, please register your interest via our online form.
Published: October 2019.