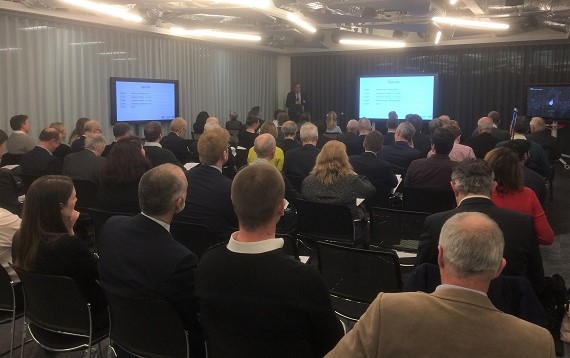 The final OION Showcase of 2019 was hosted by OION sponsor, PwC, last week at their Frontier hub in the Reading offices. As a tech-enabled, creative space, the Frontier hub allows local businesses, clients and staff the opportunity to collaborate and experience the power of technology. More info on Frontier can be found here.
John Ellis, PwC Reading Office Senior Partner, kicked off the evening with an overview of PwC's role and involvement in the Thames Valley and Oxfordshire early-stage eco-system. Nine companies from a wide range of sectors then pitched for investment, each with a five-minute presentation. More info on these can found on the investment opportunities page of the OION website. Networking over wine and canapés followed the pitches, allowing investors to find out more from the companies.
Our thanks to PwC for hosting us at their fantastic new Frontier space and also to our other network sponsors; Laytons, Nunn Hayward, Moorcrofts, Richardsons & The Oxford Trust for their continued support.
The next OION Ltd Showcase will be held at the London Offices of Cazenove Capital on Thursday 23rd January 2020. If you're an investor interested in attending please contact us here. If you're a company interested in pitching, please register your interest via our online form.
Published: December 2019.