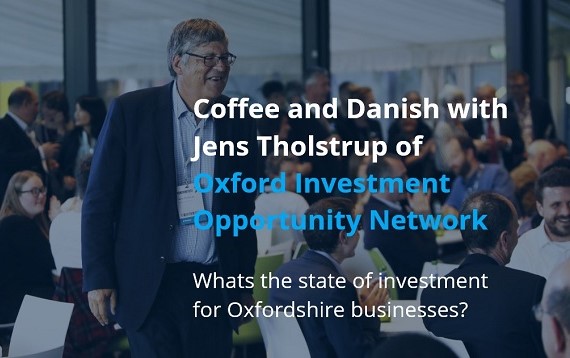 By Antony David, TechTribe Oxford.
As his name suggests, Tholstrup has a Danish background, so it seemed appropriate we meet in Ole & Steen in Oxford's Westgate Centre. As one of the county's key strengths lies in innovation, I wanted to find out more about how our entrepreneurs find the money they need to fund their ambitions. This is very much his area of expertise. Tholstrup has an extensive and impressive track record as an economist – he was until recently managing director UK of Oxford Economics, a much respected economic consultancy – but he is also clearly someone who likes to roll up his sleeves and get things done.
Now, he heads up OION (pronounced 'onion'), an acronym for the Oxford Investment Opportunity Network, which was founded in 1994. It has around 350 individual angel investors and helps fund 30-40 companies each year, many of them local. OION holds regular events where companies have the opportunity to pitch for investments of between £200,000 and £2,000,000. A recent success story is Learning with Experts, which raised £800,000 following a pitch to an OION event in London.
When asked about the state of investment for Oxfordshire businesses, Tholstrup points to the many successes of Oxfordshire's world class companies but explains that conventional wisdom says the UK is great at innovation but less good at scaling up successful small companies. Hence, the problem must be a shortage of later-stage capital. This conclusion, he believes, is flawed because... Continue reading the full article on TechTribe Oxford.
Published: November 2019.