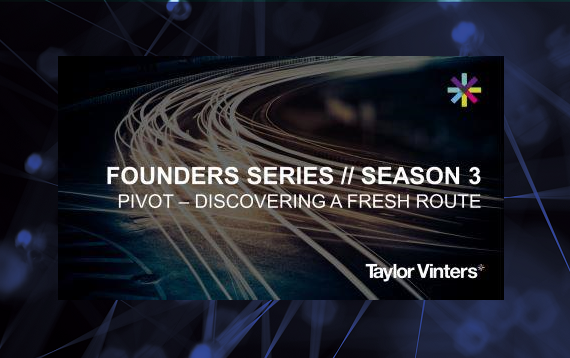 When there's a significant, rapid shift in markets due to changing customer demands or unexpected events, some businesses will see it as a challenge. Others will see an opportunity for agile minds to adapt, enhance or completely reinvent their tech.
FRESH INSIGHTS FROM OION SPONSOR TAYLOR VINTERS FOUNDERS SERIES
Taylor Vinters Founders Series reveals how leaders of breakthrough businesses have identified opportunities in fast-moving markets and taken a disruptive, tech-based approach to make their concepts succeed.
In Season 3, starting during London Tech Week, they'll be looking at how founders and business leaders have reacted to recent dramatic market changes, particularly those associated with COVID-19.
Supporting decision-makers and health services; helping people engage with the environment or track their personal health; connecting self-isolators with volunteers who'll pick up their shopping – their responses vividly demonstrate how creativity and tech can not only be a force for good, but also help businesses reinvent and succeed in unprecedented times.
FIRST UP
Tuesday 8 September // 17.00-18.00 // George Bevis // Book here
George is a serial entrepreneur and the founder of CanDo – a social ventures incubator which develops "for good" initiatives across commercial and not-for-profit sectors. He previously created Tide, the world's most innovative banking service for small businesses. He is embarrassed about stints as a banker at Capital One, RBS and Barclays, and much prouder of various unsuccessful startups where he learnt the skills necessary to build Tide and CanDo.
THIS IS YOUR COMMUNITY
In each session, Geoff Dragon will interview a founder of a company that's leading the way in developing technology for the public good. They'll explore their story, then they will open it up for your questions.
Sign up to watch and participate in Taylor Vinters Founders series, and help create an even broader community by suggesting other speakers you'd like to hear from. If you cannot make the live event, they will post a podcast following the event for you to enjoy. Sign up here.
In the meantime, you can watch Founders Series videos from Season 1 (2018) and Season 2 (2019).
OION is kindly sponsored by Taylor Vinters - an international law firm supporting the businesses which drive the innovation economy, and the entrepreneurs and private wealth that underpin them. For more information click here.
Published: August 2020.