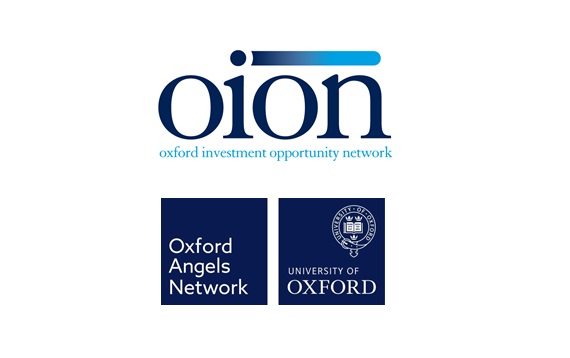 Oxford Investment Opportunity Network and Oxford Angel Network join forces
Leading angel networks in Oxford merge to catalyse early-stage tech investment in the Oxford Cluster
Oxford, UK – 23 January 2020 – FOR IMMEDIATE RELEASE
Oxford Investment Opportunity Network (OION) and Oxford Angel Network (OAN), part of Oxford University's commercialisation arm Oxford University Innovation (OUI), are merging, with immediate effect, combining their operations to form a strong and cohesive Oxford-based angel network.
Access to finance for growth is critical to starting and scaling ground-breaking tech companies. This merger will contribute significantly to strengthening the appeal of the Oxford Cluster as a great place for companies to flourish. It is a vital step towards realising Oxfordshire's potential, as expressed in the Local Industrial Strategy, of becoming one of the leading innovation ecosystems worldwide.
OUI and OION will collaborate in the selection of companies to be invited to pitch at seven annual investor showcase events. The merger of the two networks will give both new and existing angels and opportunity to invest in impactful new tech companies, both from the Oxford Cluster and the wider UK, all under one roof. Potential opportunities will include a diverse range of tech firms, from innovative software startups to deep tech university spinouts.
The merged business will be branded as OION (incorporating OAN), with OAN members invited to transfer their membership to OION.
Jens Tholstrup, Executive Chairman at OION, said:
"This merger represents a really important step in strengthening of the Oxfordshire early-stage finance ecosystem. This is a combination that will help ambitious companies access early stage finance to help develop and grow their businesses and will provide the community of investors with an even greater selection of innovative technology and knowledge-intensive businesses.
"We are delighted to be uniting our team with OUI building on our existing and fruitful co-operation and we welcome the opportunity to present Oxford University spin out companies to our combined network of investors."
Matt Perkins, Chief Executive Officer at OUI, added:
"The Oxford Cluster is bursting at the seams with game-changing startups and spinouts, with a diverse range of technology at their core that can and will impact the world for the better. Already riding a wave of unprecedented company generation and record investment levels driven by the world's number one university, this new partnership is the perfect catalyst for our early-stage companies to reach new heights. Such collaboration across the cluster is essential to our mission of working with our neighbours to create a world-leading innovation ecosystem."
ENDS
For more information, please contact:
OION
Eileen Modral, Investment Manager, Oxford Investment Opportunity Network
T: +44 (0)1865 261499 | E: E.Modral@oxin.co.uk
OUI
Gregg Bayes-Brown, Marketing and Communications Manager, Oxford University Innovation
T: +44 (0)1865 280867 | E: gregg.bayes-brown@innovation.ox.ac.uk
Notes to Editor
About the Oxford Cluster
The Oxford Cluster, broadly defined as the collective of research centres and tech businesses within 20 miles of Oxford, is an innovation ecosystem with the ambition to become a global destination for world-changing ideas and ground-breaking companies. Boasting the world's number one university for four years running in Oxford University, the region is also home to the Harwell Space Cluster, the Culham Centre for Fusion Energy, and Oxford Brookes University. The Cluster's numerous science and business parks are home to many of the UK's leading and most exciting technology companies, including Oxford Nanopore, Adaptimmune and Oxbotica. The innovation ecosystem is currently experiencing unprecedented growth, driven by an explosion of high-tech companies and an influx of talent and investment.
Find out more at https://oxfordcluster.com/
About Oxford Investment Opportunity Network (OION)
Oxford Investment Opportunity Network Ltd (OION Ltd) was established in 1994 as one of the UK's first business angel networks. Since January 2016 and May 2019, OION has raised more than £7million of investment for companies.  Our investors include: angel investors, co-funds, syndicates and investments from our OION SEIS/EIS Fund.
OION Ltd established and manages three successful investment networks; Oxford Investment Opportunity Network (OION), Thames Valley Investment Network (TVIN) and Oxford Early Investments (OEI), which today operate together as one single network.
About Oxford University Innovation (OUI)
Oxford University Innovation supports innovation activities across all University Divisions, managing technology transfer and consulting activities, and creating a world-leading innovation ecosystem, with Oxford University at its heart.
We provide access to technology from Oxford researchers through intellectual property licensing, spinout company formation and material sales, and to academic expertise through our Consulting Services team. The New Venture Support & Funding team supports investors or donors with an interest in early-stage ventures, and manages the Oxford Angels Network.
Our Startup Incubator supports members and ex-members of the University who wish to start or grow entrepreneur-driven ventures that are not University spinouts.
Oxford University Innovation is the highest university patent filer in the UK and is ranked 1st in the UK for university spinouts, having created over 180 new companies since 1988. In the 2016/17 financial year we completed more than 50 licenses and consulting agreements every month. For updates on innovations from Oxford, follow Oxford University Innovation on LinkedIn and Twitter or subscribe at http://innovation.ox.ac.uk/about/contact-us/#enquiry